How Content Owners Express Copyright Interests in Digital Domains
Join the music, television and motion picture industries as well as independent publishers, distributors and content owners who register their copyrighted works in Audible Magic's unique Global Content Registry. Registration with Audible Magic provides significant copyright protection and, in some cases, monetization opportunities. Audible Magic's master registry has been in existence for over a decade and continues to grow with over 250,000 new title submissions added each month.
Why Register
Audio and video content owners who have registered works with Audible Magic exercise more authority over their copyright interests, protect their content and reduce financial risks.
Since the advent of file sharing on the Internet, content producers have faced risks to their livelihoods due to uncontrolled media sharing or unauthorized distribution. In some cases copyright owners welcome public sharing as a kind of marketing promotion, and in other cases copyright owners would prefer to exercise more control over their lawful rights.
Audible Magic offers media copyright owners (and their licensees) the ability to express how they want their ownership rights treated in digital domains. By registering with Audible Magic, content owners are able to inform multiple content sharing networks whether public sharing of their works is approved or disapproved. In some cases content registrants have also been able to strike agreements with individual content sharing networks to track or monetize public content sharing.
Audible Magic offers information services that convey content owners' wishes to some of the biggest industry players in:
Social media
User-generated content sharing
Cloud file sharing
Online radio
CD/DVD replication
Educational institution information technology services
To the content owners, registering titles in this service is free or very low cost. In Audible Magic's business model, it's the recipient of the information service – the content sharing network – that gets charged a fee. Content sharing networks pay for these services in order to protect content owners (who are also their customers) and to enhance the entity's compliance with copyright law.
Content owners who have registered with Audible Magic include most recognizable names across international media industries as well as many smaller publishers, distributors and independent artists.
The first step is for content owners to register audio and video works in Audible Magic's Global Content Registry. There are three ways to register, depending on whether the submitter represents a major media brand, an independent publisher/distributor or an independent artist. How to get started with each registration process is described under other tabs on this page.
During the registration process, the content owner "fingerprints" their master digital media files and submits information to Audible Magic. Fingerprints are Audible Magic's patented, compact representations of properties that distinguish any small segment of a media work from any other media works in the world. Audible Magic does not store the media file in its registry. Only the fingerprints along with identifying data (metadata) and the content owner's business rules are stored.
Later, when a content sharing network scans user-uploaded media files using Audible Magic technologies, the fingerprints of the scanned unknown file are compared to fingerprints in the Audible Magic registry. When a match is found, the Audible Magic information service provides the content sharing network the identifying information and business rules expressing the copyright holders wishes for how their rights are to be treated.
If the copyright holder has entered a "block" rule, that information will be passed on to the content sharing network, informing the network of the registrant's request to not publicly share that media content. If the copyright holder has entered an "allow" rule, the network is informed that public sharing may be allowed. In some cases, copyright holders work directly with individual content sharing networks to implement "track" or "monetize" business rules, allowing either the tracking and reporting of usage or direct payment for usage.
(Please note that responses to business rules may vary between content sharing networks. Any questions about what actions are taken by any subscriber of Audible Magic information services should be directly addressed to the specific content sharing network.)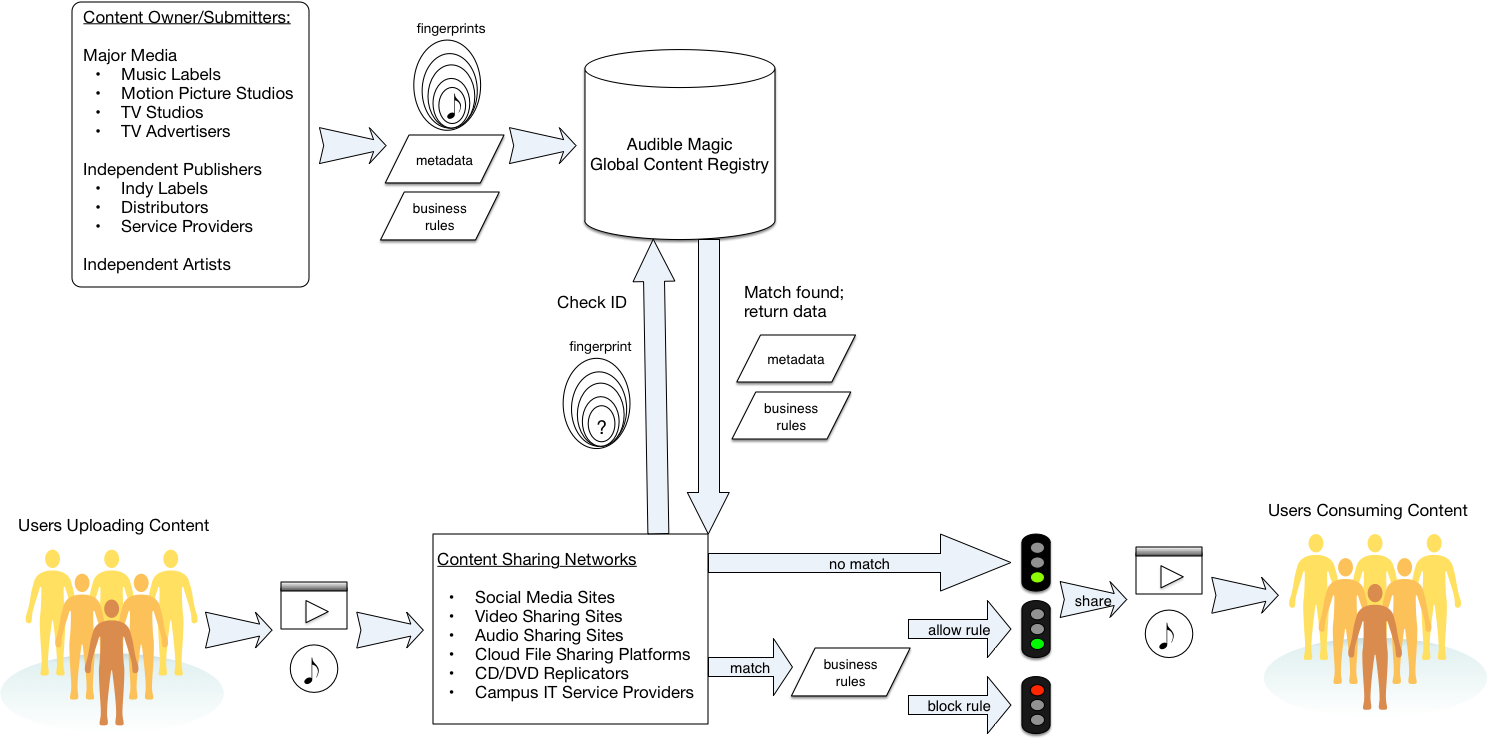 For Music Labels, Motion Picture Studios, TV Networks & Media Service Providers
For established media industry companies with the technical resources to integrate software into their existing release workflows, Audible Magic provides a fingerprinting software utility to run on your own computer(s). You then upload fingerprints along with identifying metadata and content owner business rules directly to the Audible Magic registry.
In this process, you will:
Integrate Audible Magic's fingerprinting software into your content management & release process
Utilize Windows- or Linux-based command-line utilities to fingerprint media works
Format your metadata and business rules into an XML file
Directly upload fingerprints and their associated metadata to Audible Magic's content identification database, via SFTP file transfers from a fixed, source IP address
To get started with registration using Audible Magic software, please visit Content Registration for Media Companies and Service Providers.
If your company does not have the technical expertise or operational set up to work in this manner, please consider using an Audible Magic registration partner.
For Small to Mid-Size Content Publishers & Distributors
Record labels and distributors with content catalogs ranging from a few hundred to a few thousand titles typically work with one of the following authorized service providers. These authorized partners have adopted Audible Magic software tools into their workflows and provide content registration as well as other services.

Consolidated Independent: CI delivers content registrations to Audible Magic on behalf of the biggest independent labels, distributors and aggregators, world-wide. Registration with Audible Magic is just one service included in CI's low-cost, ultra-reliable delivery package which connects its clients with over 200 digital music services, from Amazon to Zvooq and everything in between.
Additional information is available at Content Registration for Smaller Record Labels and Distributors.
If you work with a distributor or service provider who is not already set up with Audible Magic registration tools, please ask them to contact Audible Magic.
For Independent Artists
For Independent artists and distributors with up to a few hundred works, Audible Magic offers a web-based tool at myRightsView. The tool allows uploading media files as well as the identifying information associated with each file for the fingerprinting process. Once fingerprinting is complete, the media files are deleted from Audible Magic's servers.
Additional information is available at Content Registration for Independent Artists.
Alternatively, if you work with a distributor or service provider who is not already set up with Audible Magic registration tools, please ask them to contact Audible Magic.
Some of Our Content Registrants